07 / 10 / 2012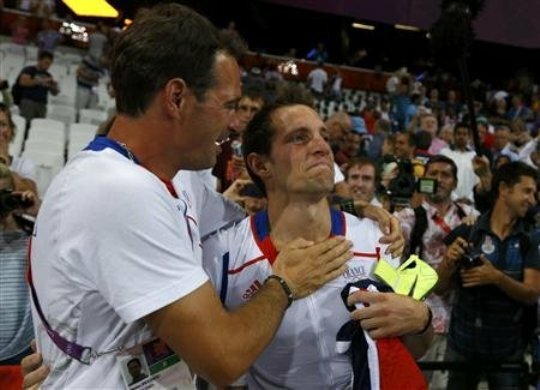 Inocencio the man who led Renaud Lavillenie to World, European and Olympic titles in 2012
Damien Inocencio knows what he talks about, as a former pole vaulter he is now one of the leading coaches in France. Since the summer of 2008, Inocencio has coached Renaud Lavillenie all the way to Olympic Gold in London this summer.
In the four years that they have worked together Lavillenie has become France's most successful pole vaulter: he has increased his personal best from 5.60m to 6.03 indoors and 6.01 outdoors.
This year was one of the duo's most successful years. At the beginning of the year in Istanbul, Lavillenie claimed Gold at the World Indoor Championships with a vault of 5.95m, he then went on to retain his European title outdoors with a vault of 5.97m.
In his first Olympic Games and a nerve breaking Pole Vault final in London, Lavillenie clinched Gold with a third time clearance of 5.97m. His 5.97m vault was also a new Olympic Record.
Inocencio, the former coach to Lavillenie, will deliver two practical workshops on the Pole Vault at the 2012 edition of IFAC. Inocencio will be accompanied by one of his future talents in the Pole Vault, Baptiste Boirie (5.50m), who will act as an athlete demonstrator for the practical workshops. Practical workshops will be delivered in Glasgow's stunning new Emirates Commonwealth Arena.

To register for IFAC 2012 please click here.