13 / 10 / 2012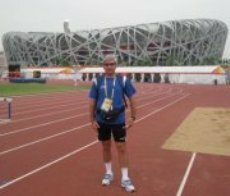 Suren Ghazaryan will now present jumps workshops at IFAC 2012
Unfortunately due to health reasons Frank Attoh will now be unable to deliver the jumps workshops and seminars at IFAC 2012. However, the IFAC organising committee is delighted to announce that Suren Ghazaryan will now 'jump' on board!

A highly respected jumps coach, Suren Ghazaryan has been a national coach in Armenia, Iran, South Korea and Bahrain. During his time in South Korea, Ghazaryan prepared both male and female long jump record holders at 8.13m (2008) and 6.76m (2009) respectively. He has also served as a coach for the South Korean Olympic Team in Beijing 2008.
Ghazaryan has extensive experience in the horizontal jumps, working and developing athletes from youths, juniors to senior athletes at international level. He has worked with athletes who have competed at numerous major championships: from World Youth Championships, World and European Junior Championships all the way to Olympic Games. Suren Ghazaryan will lead two practical workshops at the Emirates Arena on Saturday 27 October on Horizontal Jumps and Conditioning for the Jumps. He will also lead a seminar on Coaching the Jumps on Sunday 28 October.